Everybody has had an experience with LinkedIn, bad or good. There is no denying LinkedIn's power in job searching. Let us try to make your experience a good one
In this blog post, we will briefly discuss the benefits and importance of LinkedIn email extractors, commonly known as email scrapers or finders. Then talk about the best LinkedIn email extractors you can benefit from. The post will offer LinkedIn email extractor (or finder) tools pros and cons, reviews, pricing, and targeted audiences of the tools.
What is a LinkedIn Email Extractor?
A LinkedIn email extractor is a software program that extracts email addresses from LinkedIn profiles and saves them in a list or database for marketing or outreach reasons.
LinkedIn email extractors are helpful tools for email marketing, digital marketing, and outreach campaigns. It is pretty simple, it takes publicly available emails and makes a list with them.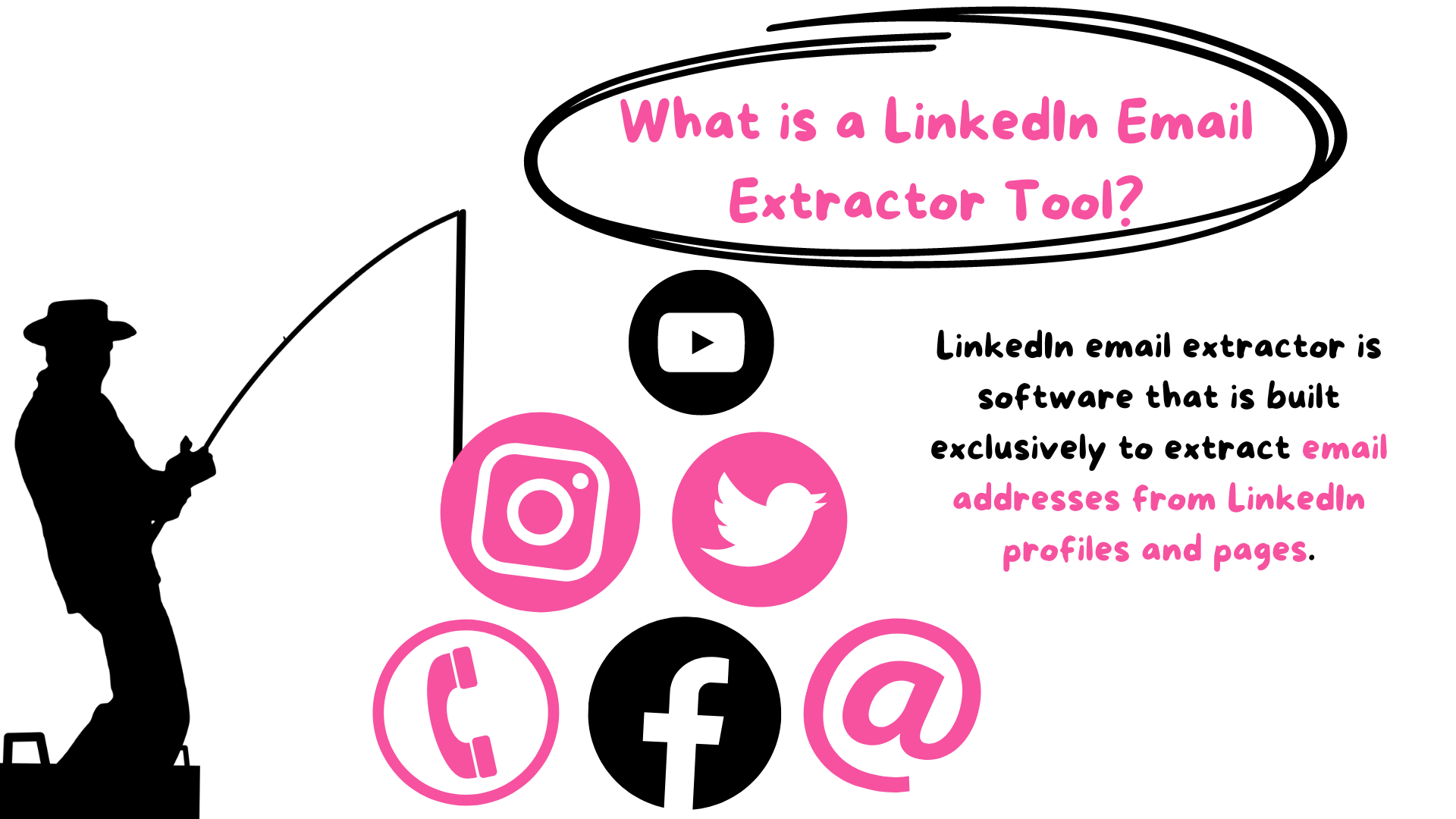 The tool creates a list for you, how cool is that! You just put in a name and a surname, then the LinkedIn email extractor finds you other parties' email addresses whether it's private or not.
There is always a but in everything beautiful, LinkedIn email extractor is one of them...It can be damaging to your brand or you as a person since it is on a thin line with LinkedIn's policies.
Why Should You Invest in a LinkedIn E-mail Extractor?
You could be a hirer, marketer, or even a worker looking for a job. So why should you use a LinkedIn e-mail extractor?
Network. Single and ready to mingle? Networking is a business dating pool. You have to go on a couple of dates to see what you like and need. You need to get to know people that can benefit you. How can you do that? By mailing the important people!
Optimize your time. Manually done work takes time. Invest your money in  LinkedIn email extractors to save time.
Find leads and personalize your outreach. This is the main purpose of the LinkedIn email extractor. You can find leads, can connect with relevant businesses, and personalize your way of saying "Hi, please buy my product...or at least promote it?"
Promote yourself. You can get in touch with businesses that complement your product or you can simply use it to reach blogs, authors, influencers, and so on to promote your product.
Looking to hire? You can search for a specific job title or location. You can pretty much look for anyone's email address on your target list.
Let's dig into the best email extractor tools in 2023!
8 Best LinkedIn Email Extractor and Finder Tools in 2023
1) AeroLeads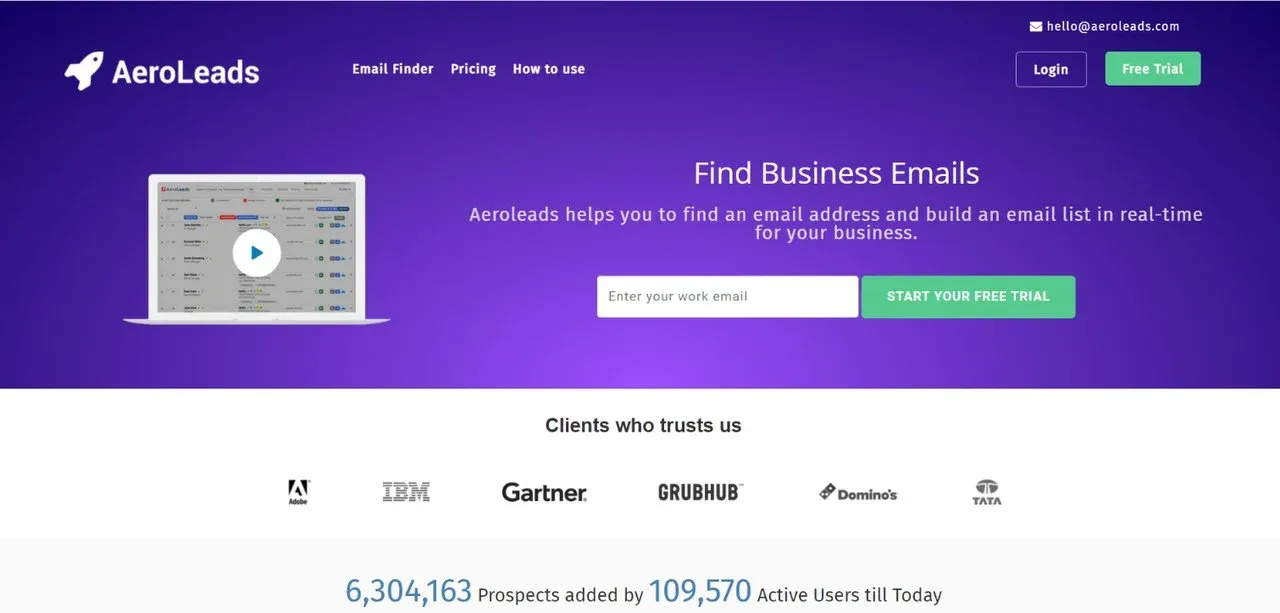 AeroLeads is an affordable LinkedIn email extractor and finder option, for people new to email finders.
B2B lead generation software company that helps businesses find and capture qualified leads for sales and marketing purposes. They offer a web application that integrates with various CRM tools, allowing users to collect contact information from website visitors, social media platforms, and other sources.
The company claims to use AI algorithms to help users identify the most promising leads based on various criteria such as company size, location, and job titles.
Pros:
The web application integrates with various CRM tools, making it easy to manage leads and follow up with potential customers.
Free-trial, and low-cost subscription plans
Cons:
Sometimes can produce low-quality leads
The web application may not work seamlessly with all CRM tools, requiring additional setup and configuration.
Too simplistic or not customizable enough
Not enough room for personalized outreach methods
Who should use LeadLeaper?
We recommend small businesses and beginners use this tool. Hiring positions such as HR can also use this simple tool.
"I like the interface and simplistic UI. Very short and very precise. I have been working with the extension for quite a long time now! It's a savior. My team uses apollo and the rest of tools. But I prefer lead leaper."

2) GetProspect

GetProspect is an all-in-one tool for sales prospecting and email outreach. It provides businesses with a user-friendly and cheap solution for finding and collecting contact information. The platform allows users to manage their leads and prepare cold email sequences.
GetProspect is a safe and secure tool to use since it complies with data protection regulations such as GDPR and CCPA. Overall, GetProspect is an excellent tool for businesses looking to generate new leads, expand their customer base, and streamline their sales and marketing workflows.
Pros:
User-friendly interface
Large database
Integrates with various CRM tools
Free-trial and cost-effective solutions
Get information about the position, seniority level of the person
Cons:
Features focus on lead generation, advanced lead management or engagement tools are not available
Can be inaccurate
Need to use another service provider to mail collected leads
Who should use GetProspect?
For small businesses or one-man jobs, GetProspect can be a cost-effective solution for generating new leads and expanding their customer base.
"Email finding capabilities, especially LinkedIn plugin.
This email finder is pretty comfortable to use. I can get the email addresses of people straight from a website, LinkedIn personal page, or search. It is also super helpful that I can effectively organize leads into lists and start segmenting the audience right from the beginning. The verification feature helped me several times, while the database offered essential details."

3) Lusha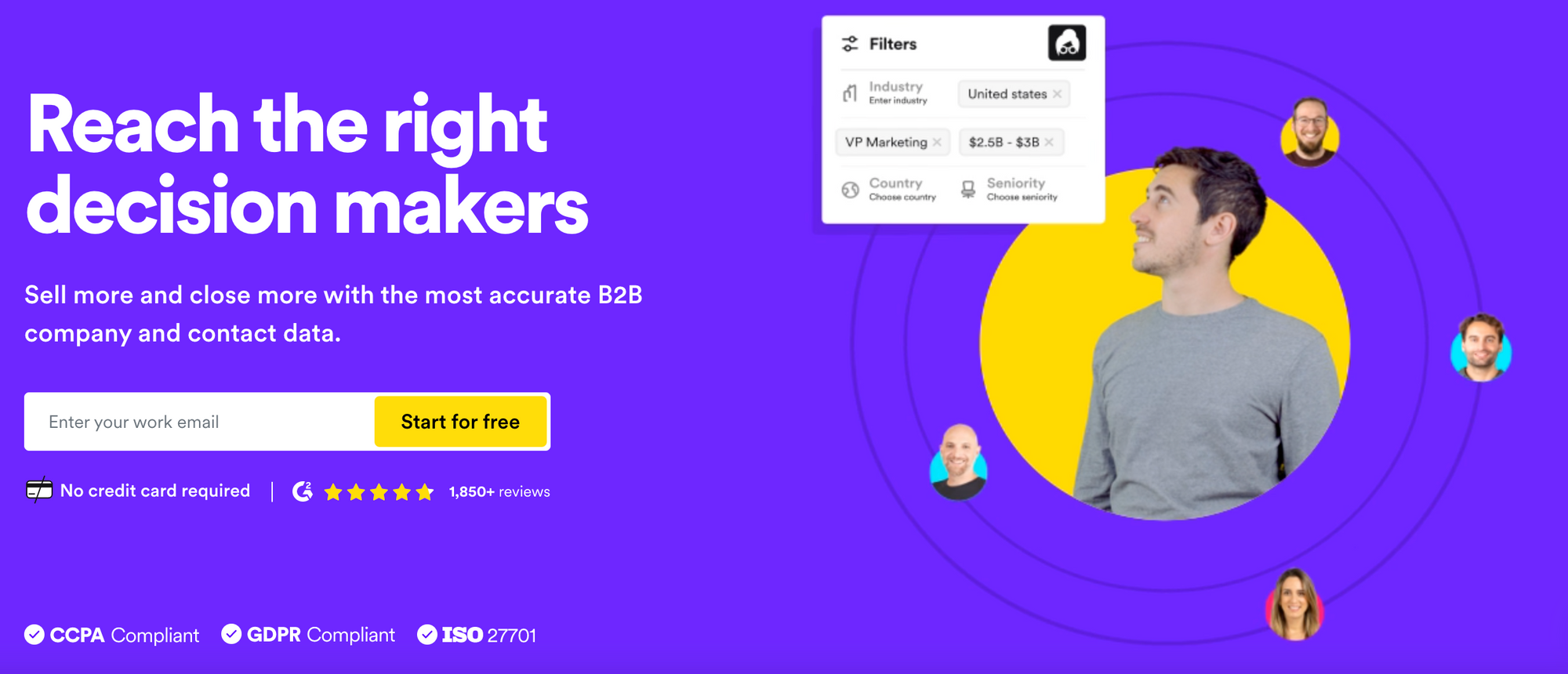 We are moving on to more expensive but more effective tools starting with Lusha. Lusha is a B2B contact information platform that provides businesses with access to accurate and up-to-date contact information for potential leads and customers. Lusha is a bit more pricey but provides high accuracy.
Pros:
Up-to-date accurate information
Integrates with other marketing tools, and provides a user-friendly experience
Large database of contacts
Follows GDPR and CCPA guidelines
Cons:
Expensive
Individual consumers can find the platform challenging/not benefiting from the platform since its tools are designed for B2B
Who should use Lusha?
Small to mid companies looking to actively grow their businesses with email marketing.
A positivereview on Lusha posted on Capterra:
"Pros: Lusha is the most user friendly tool available for Lead Managers, Sales prospecting, Demand generation, Strategic Sales, etc. It's API integration works as charm. The compatibility with various CRM tools is an add on.
Cons: Doesn't give desired results many times. Doesn't work as expected a lot of times."

Lusha offers discounts, go check out!
4) Snov.io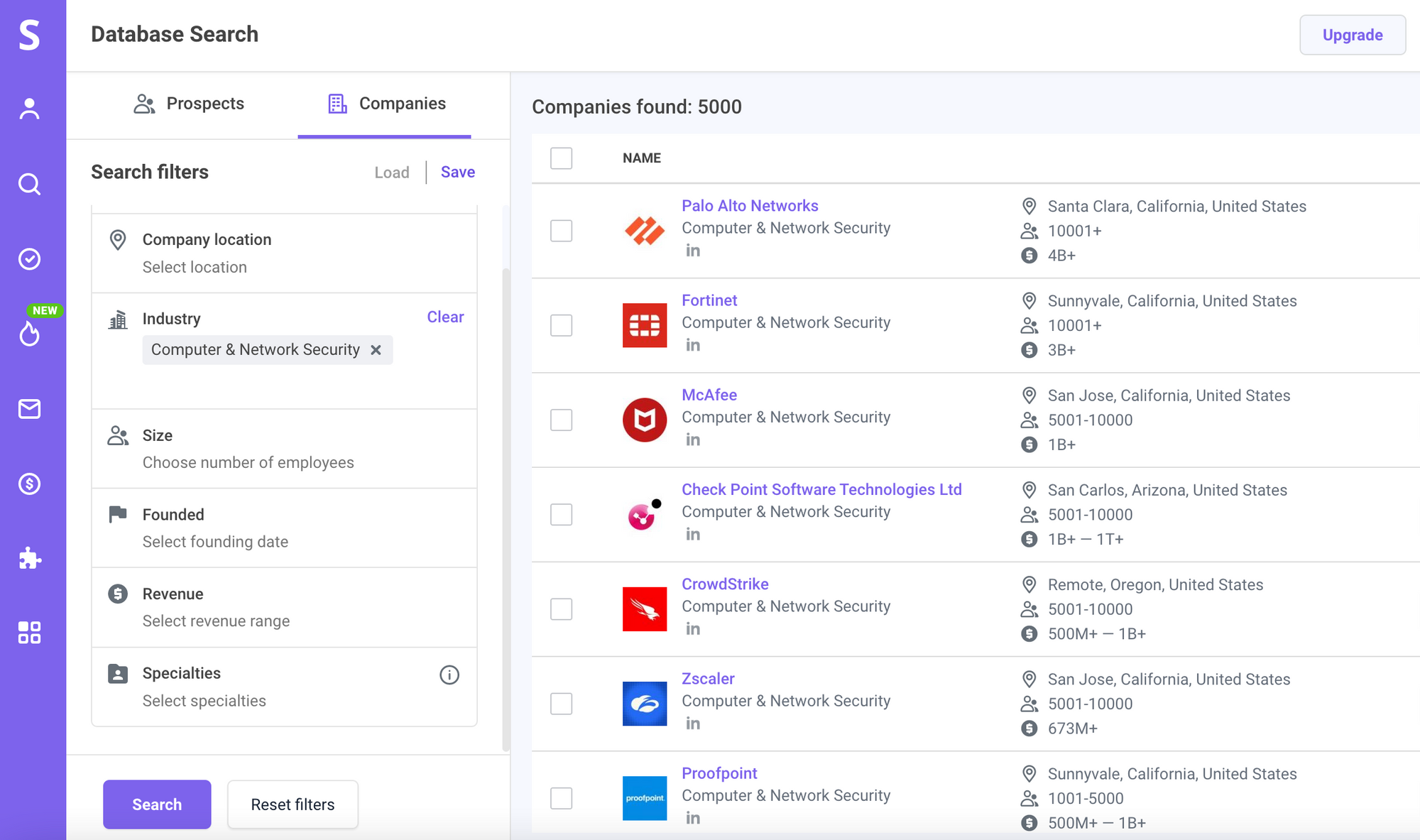 Snov.io is a platform designed to help businesses with lead generation and email outreach. Its suite of tools includes an email verifier, email finder, and email drip campaigns, making it easy to find, verify, and reach out to potential customers.
The platform is loved by many thanks to its user-friendly interface, and affordable prices. Snov.io provides users with tracking leads, automation cold outreaches, and verifying leads.
Pros:
Follows GDPR and CCPA
Offers customizable search options
You can use it to manage everything (an all-in-one tool) or can choose to use one specific feature
Very fast
Cons:
Expensive
Can take some time to learn despite it being user-friendly
While the platform can certainly be used to connect with individual consumers, its core focus is on helping businesses build relationships with other businesses.
Who should use Snov.io?
Large enterprises and mid-size businesses.
Review about Snov.io on GetApp:
"Snoovio helped us to bring in companies that are exactly our target audience. The quality of the target that we get with the filters used for each campaign is the best feature of this platform. Instead of paying triple for an agency, we can set up our campaigns, we can do AB tests, and adjust what we need to reach our target audience successfully!"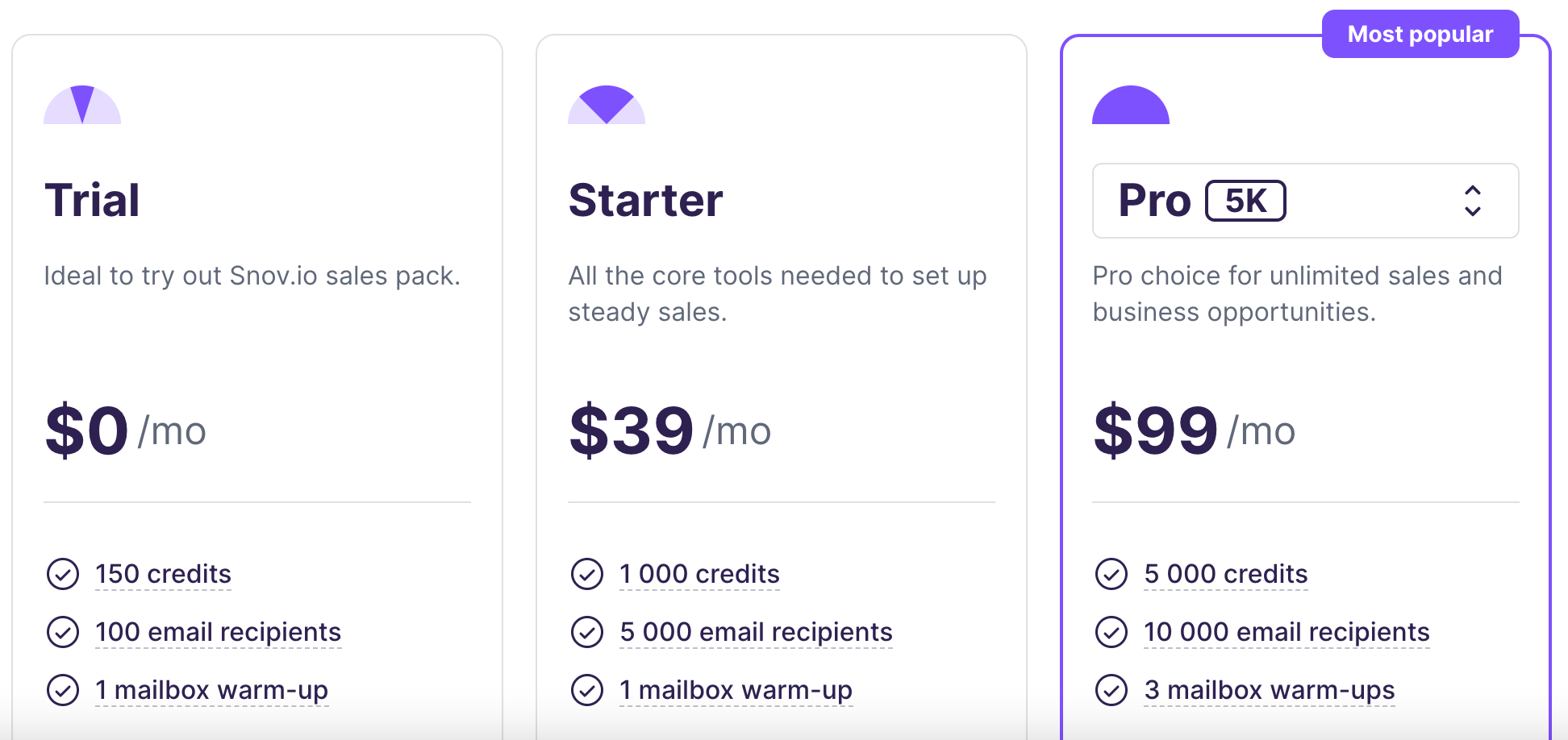 Snov.io pricing offers credits for the pro package. You can choose from 5 different choices that go up to 100k credits. They all have different prices, the more you want the more you pay.
Additionally, they offer a prospecting and outreach service for 999 dollars a month.
5) Emailsearch.io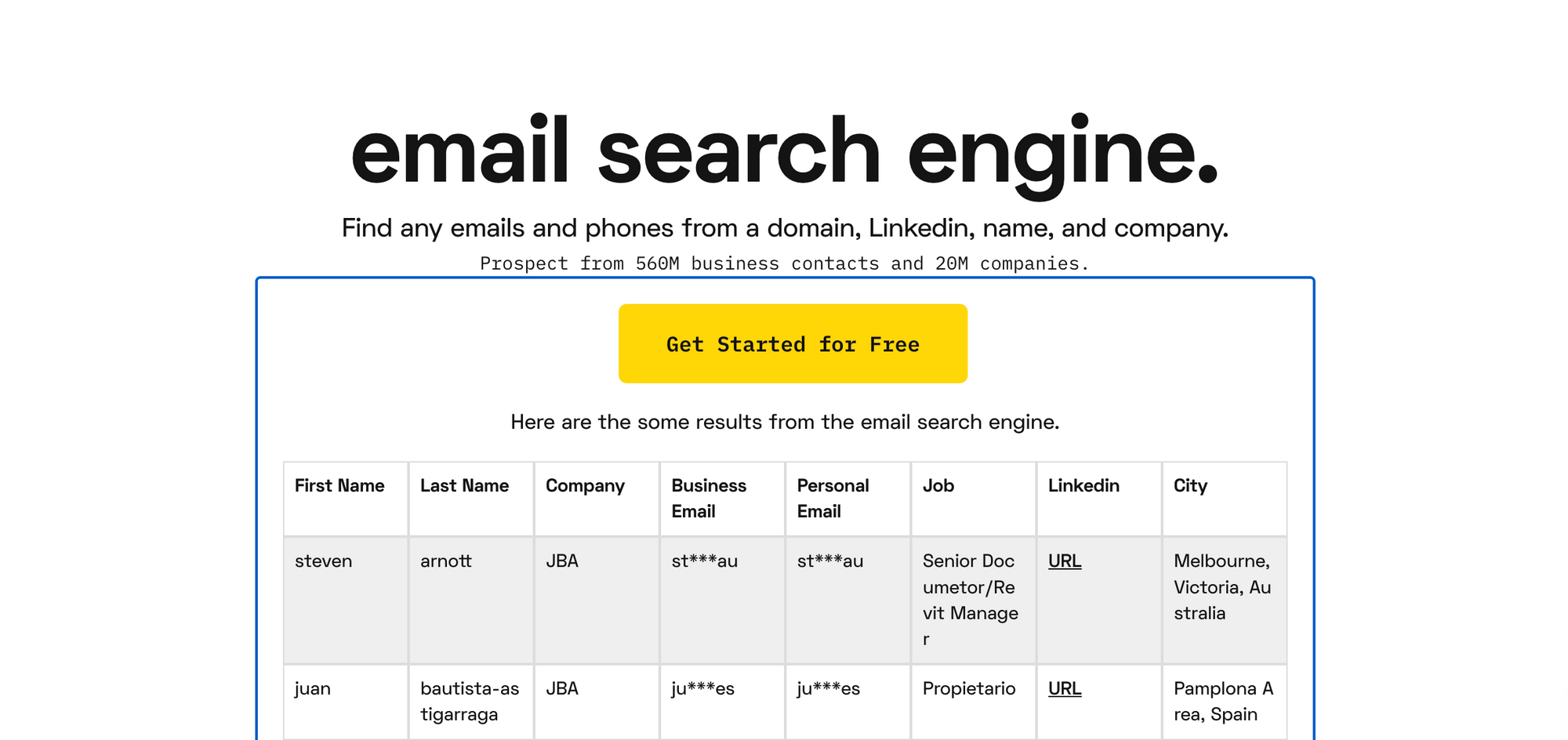 Emailsearch.io is an linkedin email lookup service that enables users to locate and validate email addresses for individuals or corporations. Users can validate the accuracy of these email addresses to guarantee that they are communicating with the correct persons.
Pros:
Can find personal contact information
Cost-effective
Has a free tool to test out Emailsearch.io (it does not show any information except the link and name however, it's a good guidance tool)
Cons:
Doesn't offer a free trial
You can get into trouble! More to that is down below.
Limited because it only provides a lookup tool
Better be safe than sorry! Before you dig into Emailsearch.io first invest your time in researching what is legal and what is not in your area.
Who should use Emailsearch.io?
Small businesses and individuals, looking to personalize their approach.
Review posted on Trustpilot about Emailsearch.io:
"There are many email finders in the market, but all of them can find the company email address. Finding it is not as hard as you might think. I was having difficulty using the company email both because it changed due to job change and because it was getting more and more caught by various spam filters.
Emailsearch solved this problem by finding personal email addresses. In this way, I can easily reach our potential target person with a personal e-mail address that is used for life. It's a little late but I wrote this review to say thank you."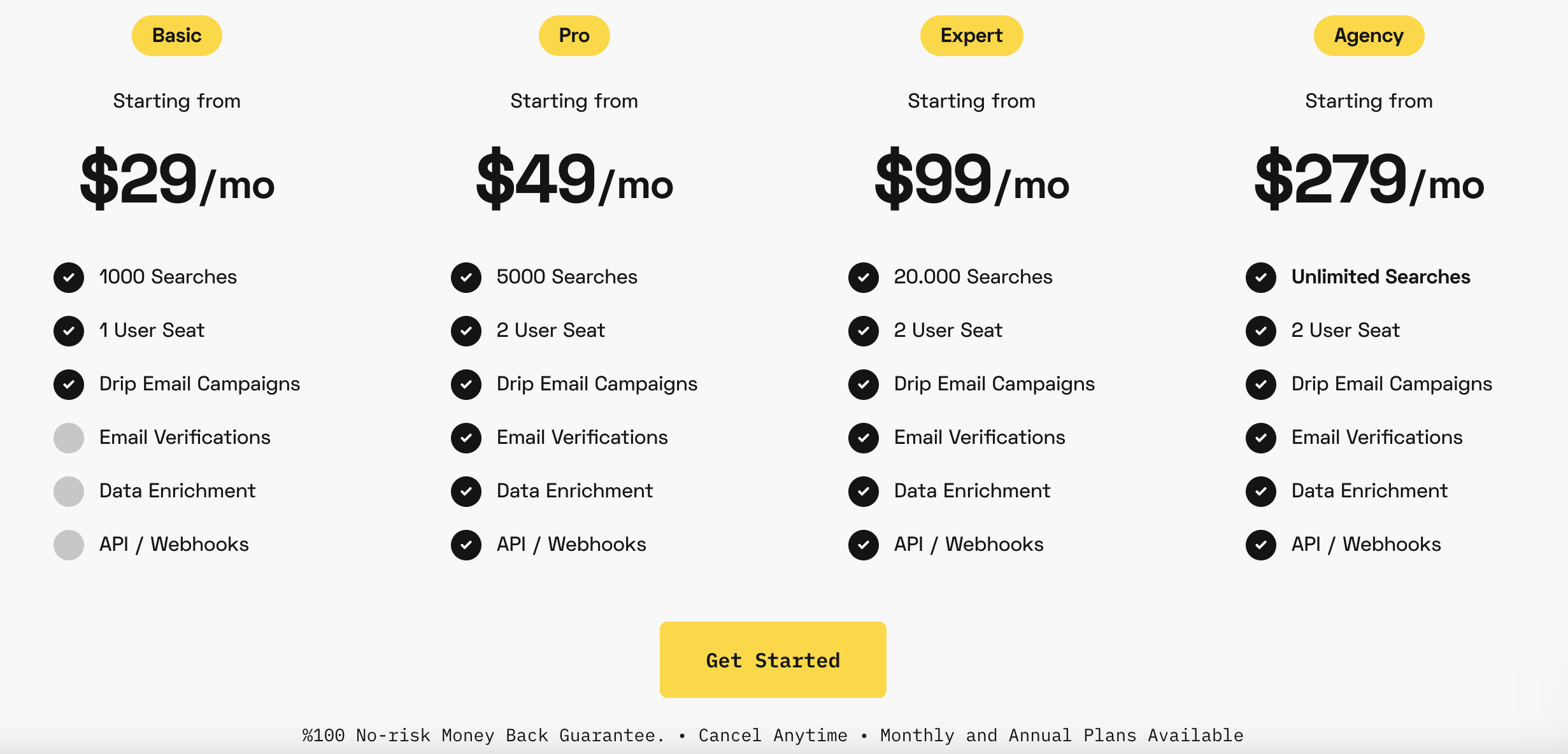 If payment plans look right to you, go and check out Emailsearch.io's page!
6) Wiza
Wiza is an email extractor and finder tool that provides the user with wanted email addresses. Wiza, unlike other platforms, has flexible pricing and goes by the pay-when-verified motto.
Wiza's Pay When Verified function charges users only for contact information that has been confirmed as accurate, which means that the email address and phone number are both legitimate. Users are not charged for unverifiable contacts.
This functionality may be useful for users who wish to confirm that they are paying for the correct contact information.
Pros:
Offers follow-up reminders, email sequencing
Automation tools are integrated with the platforms verification system
Up-to-date email addresses
7-day free trial
Wiza is compliant with GDPR and CCPA regulations
Cons:
Hard to learn
Expensive compared to other tools
Who should use Wiza?
Small and mid businesses looking to grow. It's a great tool for individuals too, however, for people on a budget, it can be expensive.
Review on Wiza, posted on Capterra:
"Overall: My overall experience with Wiza has been great with Wiza, just if it would have been a little more economical it would have been great
Pros: It is very fast and convenient, more than that it very accurate. Gives us the required person's Business Email, with 100% validation. It also scraps the leads from LinkedIn as per the instructions and gives the most required results.
Cons: The only con of Wiza is it quite expensive when compared to its competitor such as Any Leads."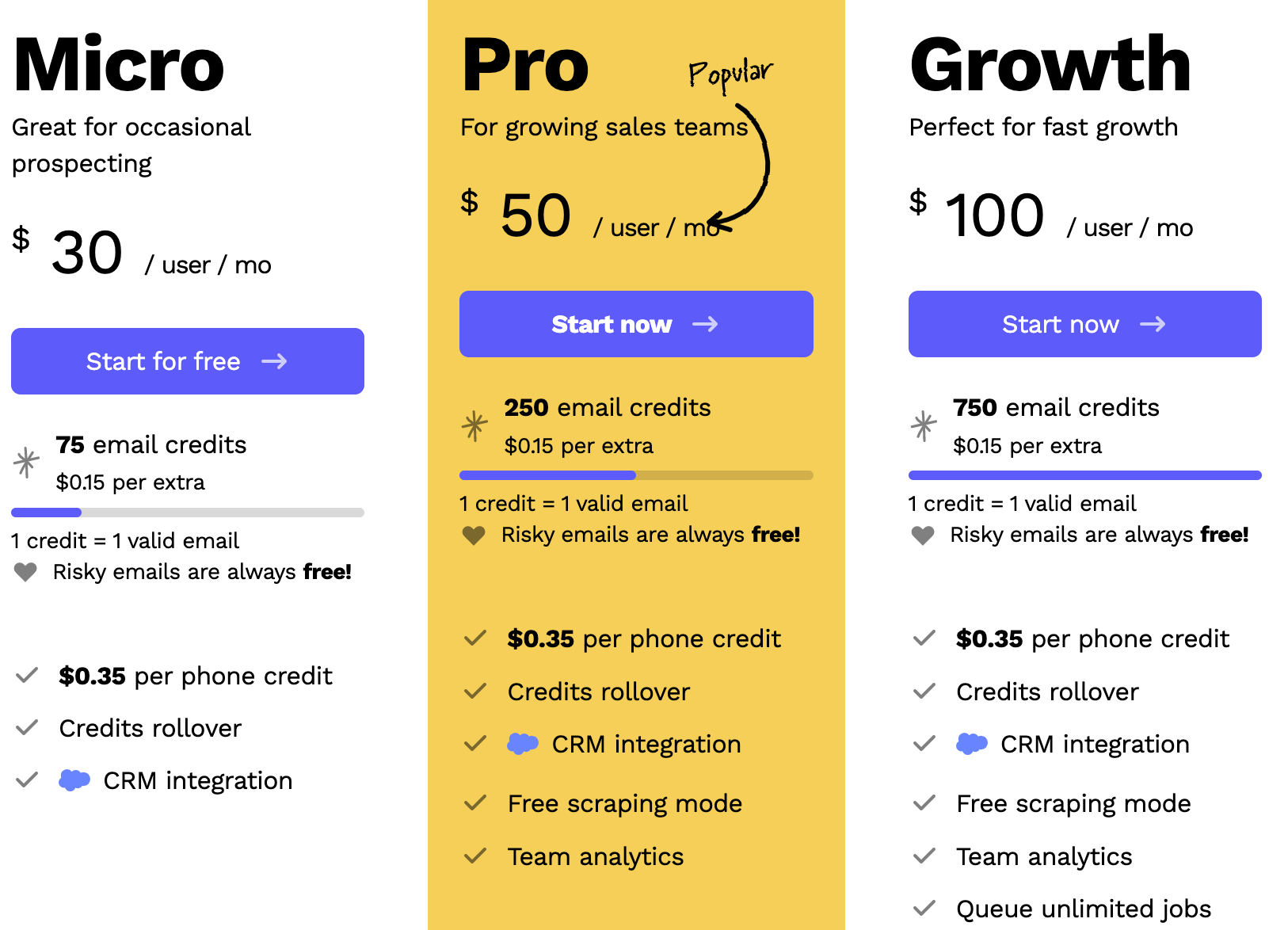 You can choose to use monthly payment plans or go with yearly payment plans and save yourself a couple of bucks!
7) Voila Norbert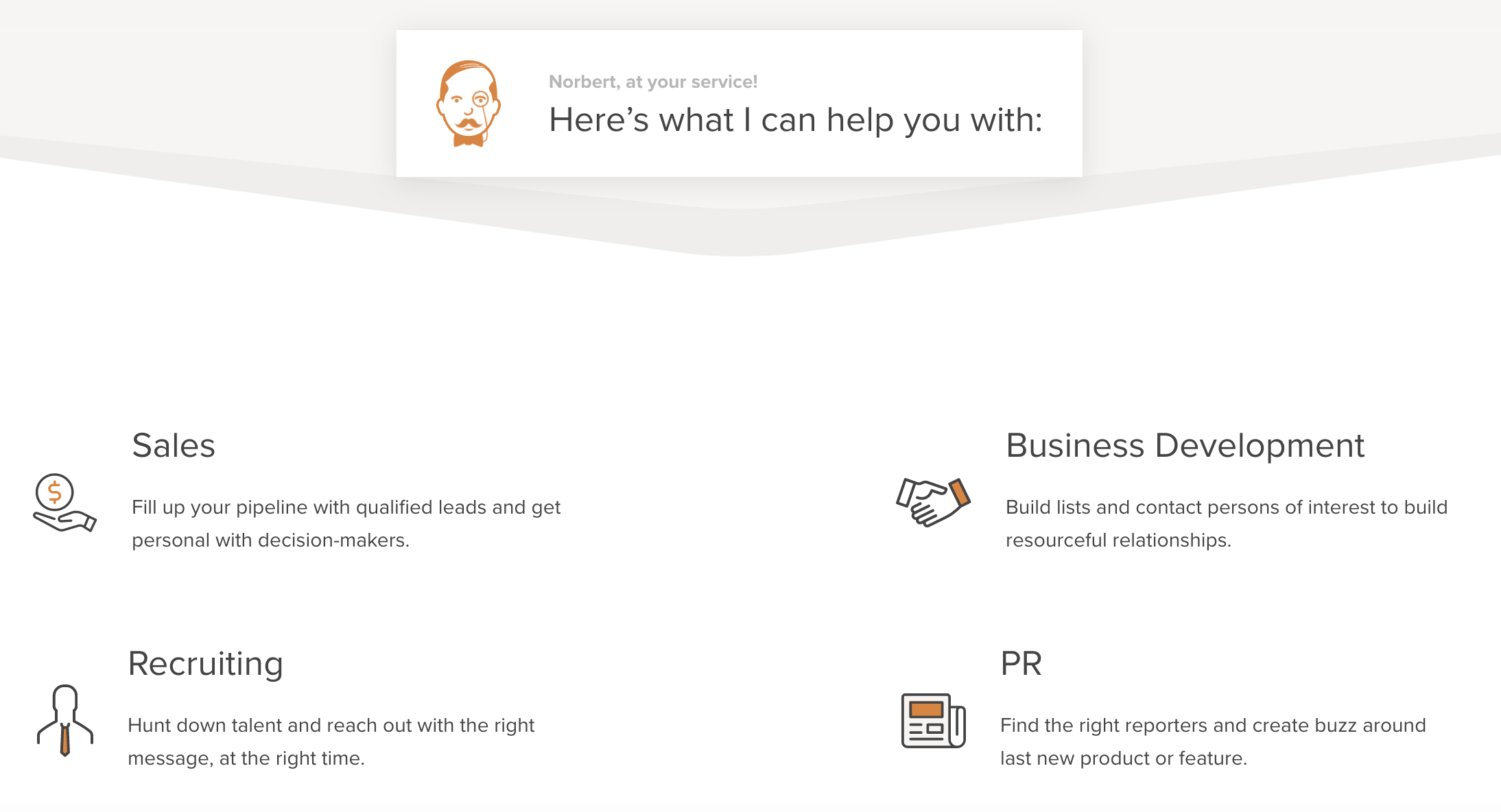 Voila Norbert is an email extractor and finder tool that can obtain anyone's email address simply by knowing the prospect's name and corporate URL. It searches for your desired email addresses using a combination of extremely successful methods and a frequently updated database.
Pros:
Voila Norbert is known for its accuracy, tool uses multiple data sources and verification methods
Flexible prices
Limited search volume (chosen monthly/yearly package allows a limited number of email research)
Cons:
Expensive monthly and yearly prices
Who should use Voila Norbert?
It can be used by anyone! However, pricing is kind of expensive compared to other tools. So, people or businesses on a budget should consider using alternatives.
"It is integrated with all the other systems, like LinkedIn, I use to find new business and it almost always finds email addresses that I would have spent much more time acquiring. Best of all, it never gives me duds that create undeliverables.
Their pricing model lets me buy credits and keep them until I actually need them. I've never faced a "use it or lose it" scenario. They just do this right."

They divided pricing into three categories and you are, if you chose to, charged accordingly. The first one is prospecting, the prices above.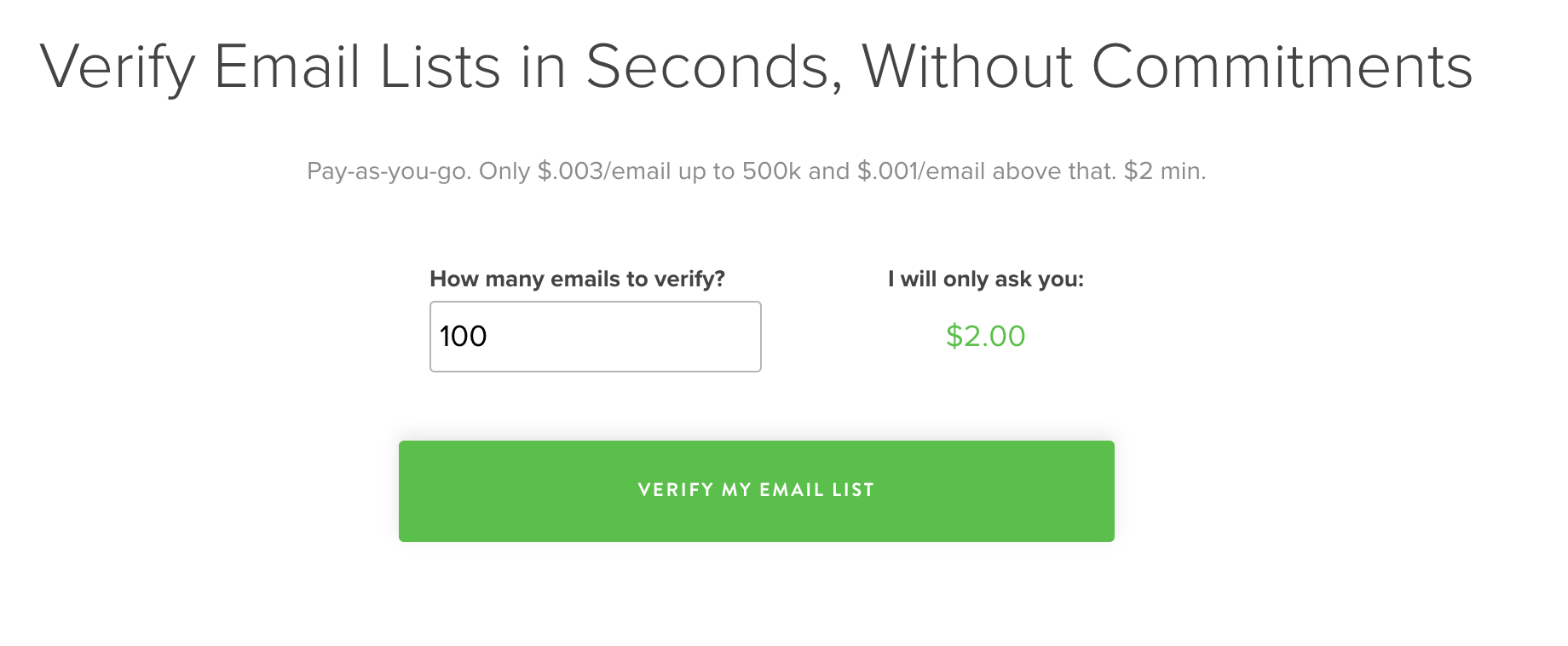 The second one is verifying feature where you get charged for the amount of work you want to get done.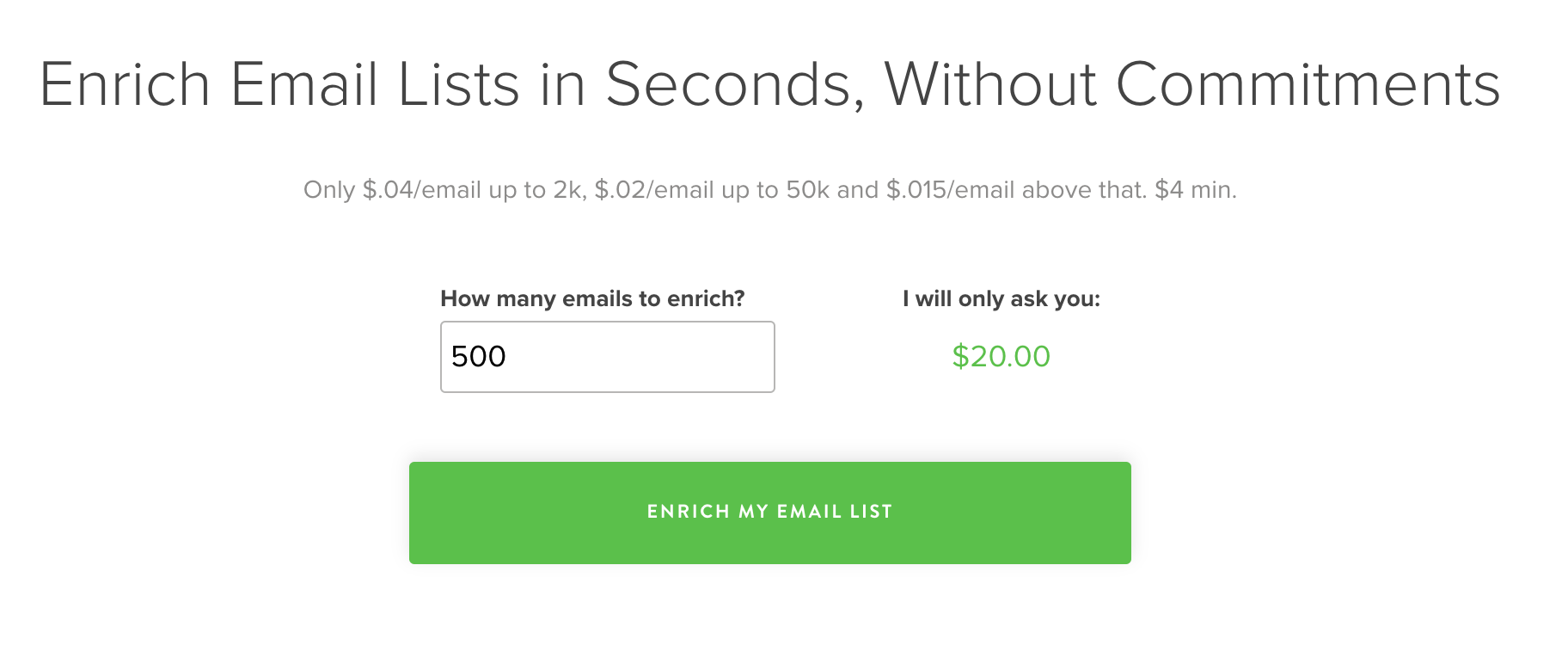 The third and last one is, enrich. Similar to the second one, you get charged for what you use.
8) SalesQL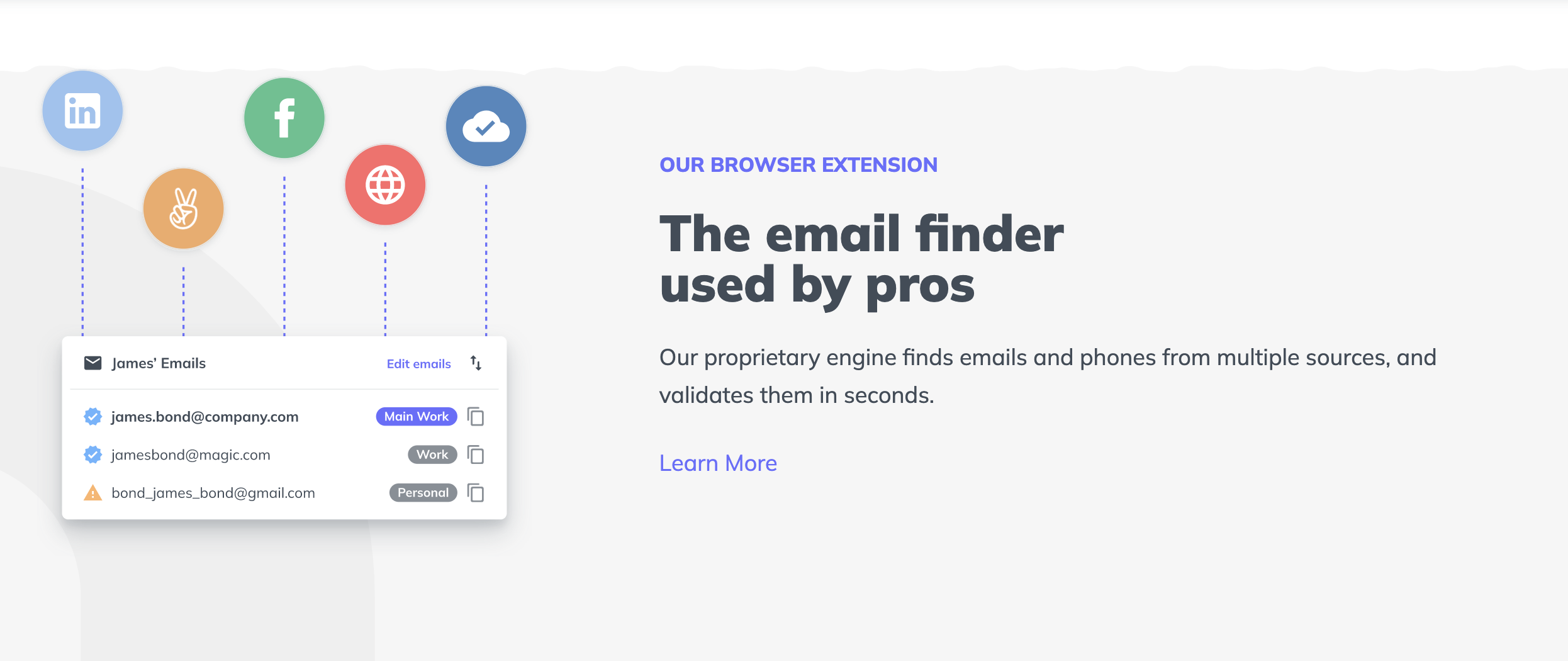 SalesQL is a strong tool for scraping LinkedIn connections' personal and corporate email information, as well as phone numbers. It operates by automatically validating and classifying the collected data, saving users time and effort.
Install the Chrome extension and navigate to the desired LinkedIn profile to use SalesQL. To begin your search for contact information, click on the SalesQL icon and then the plus button.
Pros:
Saves time by automating the process of finding email addresses and phone numbers.
Provides verified contact information to avoid bouncing emails.
Offers classification of emails to prioritize outreach efforts.
Cons:
Limited to LinkedIn contacts.
Chrome extension is required to use the tool.
Risk of violating LinkedIn's terms of service and potential consequences.
"What do you like best about SalesQL?
Easy to use with the chrome extension. Really helpful to automate the extraction of public data from LinkedIn (free plan) and Sales Navigator, centralizing it in one place, from where you can download it to Excel.Review collected by and hosted on G2.com.
What do you dislike about SalesQL?
You can't select the data to download, it always downloads the full info, and you have to order it in Excel. It is hard to search for a contact, the searcher is limited. Review collected by and hosted on G2.com.
Recommendations to others considering SalesQL:
Plans are a little costly but still, I think it is the best option."
📬
Here is a simple table for curious readers however, note that this table provides only a partial comparison and may not include all features of each platform.
| Tool | Email Finder Extensions | Sales CRM | Email Verification | Email Automation | Drip Campaigns | Email Finder | Price |
| --- | --- | --- | --- | --- | --- | --- | --- |
| Leadleaper | Yes | No | No | No | No | Yes | $49/month |
| GetProspect | Yes | Yes | Yes | Yes | Yes | Yes | $49/month |
| Lusha | Yes | No | No | No | No | Yes | $399/month |
| Wiza | Yes | No | Yes | No | No | Yes | $99/month |
| SalesQL | Yes | Yes | Yes | No | No | Yes | $49/month |
| Voila Norbert | Yes | No | Yes | No | No | Yes | $49/month |
| Snov.io | Yes | Yes | Yes | Yes | Yes | Yes | $33/month |
| EmailSearch.io | Yes | No | Yes | No | No | Yes | $29/month |
Pricing and features are subject to change, so it's best to check with each platform for the most up-to-date information.
Is LinkedIn E-mail Extractor Legal?
So, is LinkedIn scraping legal? Shi Hui says "Yes...and no". Yes, it can pass as public data and yes, you can do it manually. But respecting sites' terms of service would be a smart move, to not get banned forever. You can check out LinkedIn's prohibited software and extensions and act accordingly.
But is it legal to use a LinkedIn email extractor? Yes! It is legal to use one. As long as you are using publicly available data you should be good.
Watch how not to scrape data from LinkedIn to learn! Check out Luke Barousse's video "Building a bot to scrape job data… How NOT to collect data".
How to Know Your LinkedIn Email Privacy Level?
You may check your privacy settings in the "Settings & Privacy" area of your LinkedIn account to learn more about your LinkedIn email privacy. Your email address is only accessible to your LinkedIn connections by default.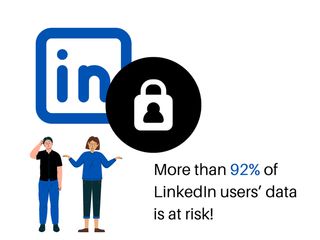 According to LinkedIn;
By default, the primary email address you've registered with LinkedIn is only visible to your direct connections on LinkedIn. If the direct connection connects their LinkedIn account with approved apps and services, like Outlook, they will be able to view your email address in those services by default.
But, you have the option of making it public to all LinkedIn members or no one at all. You can also choose to conceal your email address from your public profile.
Here is a short video on changing LinkedIn privacy settings for visual learners. Check out LinkedIn with Louise for more engaging videos!
Conclusion
In conclusion, LinkedIn email extractors are valuable tools for email marketing, digital marketing, and outreach campaigns. However, it is important to respect LinkedIn's policies and terms of service to avoid getting banned from the platform.
Using a LinkedIn email extractor can help you network, save time, find leads, personalize your outreach, and promote yourself or your product. The best LinkedIn email extractor tools in 2023 include LeadLeaper, Voila Norbert, Emailsearch.io, Lusha, GetProspect, Wiza, and Snov.io.
Before using any LinkedIn email extractor tool, it is important to weigh its pros and cons, pricing, and targeted audiences to ensure that it meets your needs and fits your budget. If you are interested in B2B tools, digital marketing, and AI-powered tools keep reading to learn more!
FAQ
What are LinkedIn email extractor and finder tools?
LinkedIn email extractor tools, scrapers, or finders, are tools created specifically for LinkedIn, to find emails, contact information, and data on a company or a specific person. These tools help you by listing email addresses for you, therefore you can use it to find recruiters, people in need of a job, or someone to promote or link up with in a professional manner.
What are the benefits of using a LinkedIn email extractor?
Networking, saving time, discovering leads and tailoring your outreach, marketing yourself or your product, and looking for certain job titles or regions are all advantages of using a LinkedIn email extractor.
What are the risks of using a LinkedIn email extractor?
If your email extractor tool isn't following LinkedIn's guidelines on privacy or is not compliant with GPRA and CCPA, your account can get banned. Also, it can be damaging to your brand or you as a person.
What are some of the best LinkedIn email extractor tools in 2023?
LeadLeaper, Lusha, Wiza, Emailsearch.io, Snov.io, SalesQL, Voila Norbert, and GetProspect are one of the top email extractor platforms in 2023.
Who should use a LinkedIn email extractor?
Hirers, marketers, job seekers, and small businesses or one-man jobs can benefit from using LinkedIn email extractor tools.
Are there any free LinkedIn email extractors?
You can benefit greatly from free trials offered by paid Linkedin email extractors. While there are some free LinkedIn email extractors available, they may not be as reliable or accurate as paid options. It is recommended to invest in a paid LinkedIn email extractor for better results.