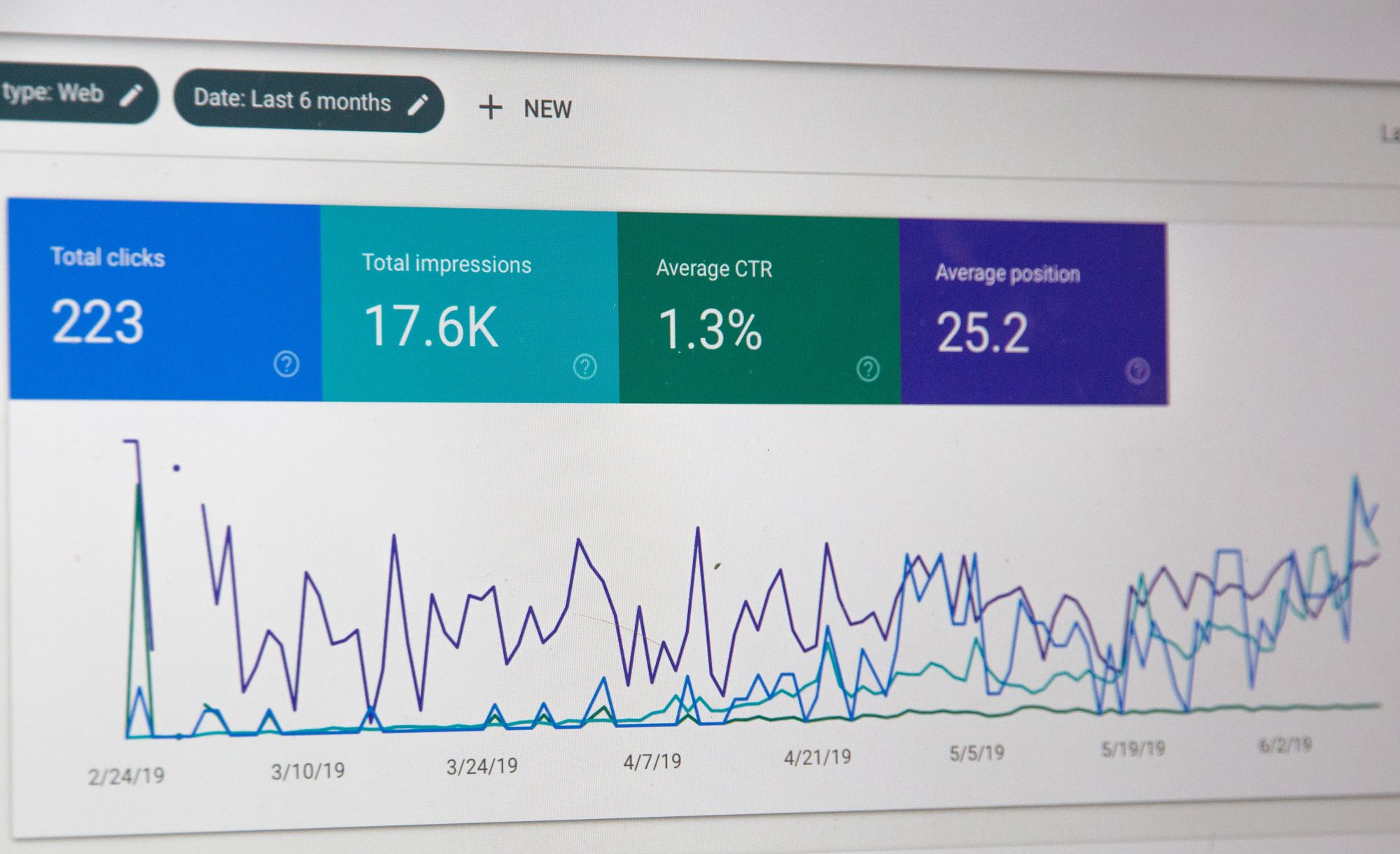 During the remaining 8 chapters of this SEO guide we have seen how to carry out an SEO strategy from start to finish, but the most important thing in this whole process is still to be known: measuring the results.
Without a good analytics process we will not know if all our efforts have served for something or if we are on the right track towards web optimization appropriate to the needs of our users, because it is possible that we are attracting a lot of traffic to our website, but what? is this traffic converting?
How to correctly measure the evolution of traffic?
In a content strategy, analytics is going to be what tells us what works, what the user likes and how to continue growing; regardless of whether your objective is branding, visits, leads or purchases.
The first thing you need to know is that to see if something works or not, you need to compare it. For example, if you make a change to your website and suddenly the traffic goes up or down, it could be due to two things:
That your action has had a consequence on your website
That it be for something seasonal, that is, because at that time of year the traffic always tends to increase/decrease
The safest thing is that if you analyze your website traffic in Analytics for a whole month, the graph you find is this:

The same would happen if you do an analysis of the whole year, there are specific moments in which the traffic increases because they are special dates:

That is why it is essential to always compare the evolution of traffic with the same period last year, in this way you will avoid any seasonal error and the vision of what does and does not work will be much more faithful.
Segment traffic by keywords
The second point that you must be clear about is that you must segment the traffic of some in order to know which pages of your website are the ones that work best and which are the ones that you have to focus on improving because they do not attract all the traffic that you want or not . they convert everything they are supposed to convert.
For this it is necessary to have previously done a good keyword analysis to know which are the keywords for which we will have to analyze results later.
To put ourselves in a situation, you first have to know that the keywords can be grouped into three groups:
Depending on the number of visits that the keywords attract, they can be Head, Middle Tail or Long Tail.
If the keywords include the brand name
If the keywords do not contain the brand name
1. Based on search volume
The volume of searches differentiates the keywords according to the number of searches around them, it is divided into three groups: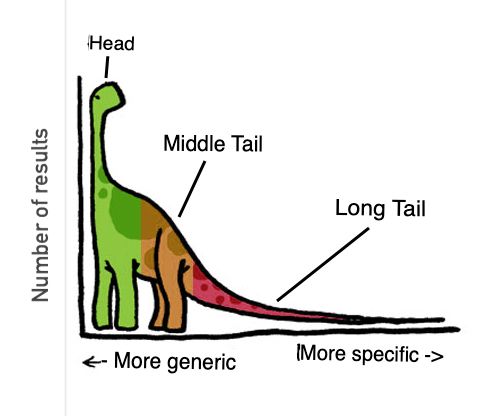 Head: These are very broad searches with a lot of search volume and a lot of competition. Ex: Cats, Houses, etc.
Middle Tail: Searches in which more is specified but are still very general. Ex: funny cats, cheap houses, etc.
Long Tail: This is where the opportunities are, since they make up 70% of the total, they are very specific searches, with little competition and most of them are transactional. Example: Videos of funny Siamese cats, Buy a cheap house in Madrid, etc.
What is the best for your website then? At first glance, it might seem that it is best to focus on the keywords that attract the most traffic, since these will obviously attract more users to my website, but of course, if you are taking the first steps with your website, it will be extremely difficult to position yourself first. results when there is already established competition.
The long tail can make the difference between your page getting started or not. Imagine that you manage to position the KW that you have determined as important, but you leave aside the long tail, which is more than 70% of the visits that enter your website : you are losing most of the traffic that you could generate.
What's more, the traffic that comes to you through generic words has a worse conversion than the long tail ones .
2. The keywords that contain the name of your brand
These keywords are directly related to how relevant your brand is or not. The ideal would be a good balance between brand and non-brand searches, since if the percentage of brand searches is very small, it means that your brand is not very relevant and if it is too high it means that the SEO of your website is not well optimized to attract organic searches.
But as I say this would be ideal, very few websites achieve this balance, most have a higher percentage of brand searches.
3. Keywords that do not contain the name of your brand
These are the keywords that you have to focus on since they are the ones that you have the most chance of improving without the influence of external factors such as the relevance of your brand.
But since September 2013 there is the huge problem of 100% Not Provided.
What to do with the Not Provided?
Surely you still do not have 100% Not Provided data, so it is advisable to extrapolate the existing Keywords data between your not provided data now that you still can.
In any case, given that the Not Provided data is already at 80%, and given its increase, it would not be surprising if we reached 100% throughout 2014.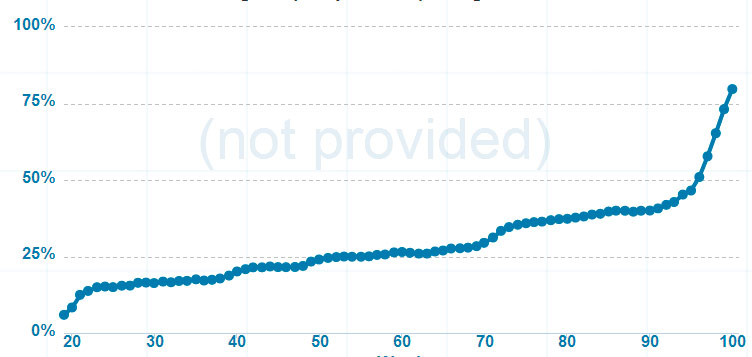 Although extrapolating the data is a good solution, it is temporary, since although this way we can know what volume of traffic you do not have, in the end what is really important is to know by which specific keywords this traffic arrives.
1 Traffic per landing page : Instead of focusing on the keywords that send traffic, we can focus on the landing pages that attract it. If we have a good segmentation of keywords, the information obtained will be similar. We will lose definition (we will not know the exact word) but what word they revolve around or the general intention of the search.
2. GWT data : Google Webmaster Tools is not as accurate as Google Analytics but recently Google updated it so that it gives much more reliable information than before by not rounding the data of the number of visits that each keyword attracts.
The information you will find here is all related to the keywords that attract traffic to your website:
Keywords that have attracted traffic in the last 90 days
Changes in the statistics of the last month
Data on the number of impressions, number of clicks, CTR and average position of the keyword
If you click on a keyword, it will give you information about the page that users reach through that search and the positions from which they have arrived
The filters will allow you to segment by word, type of search (image, video, web, etc), location and by the number of searches for the terms
As it only has 3 months of history, it is convenient to consider exporting the data and keeping a record in excel, in this way we will avoid having periods without information. Another negative point is that the results with changes are only shown in periods of 30 days, so measuring compared to the year before the one analyzed is a bit difficult.
How to segment not provided?
This is based on detecting what percentage of measurable traffic is brand and non-brand, and distributing the traffic that you cannot measure in the same proportion, so that the not provided traffic is distributed proportionally between brand and non-brand traffic visits.
This is very easy to do once we export the data from Google Analytics to an excel with this formula:
Traffic Brand:
Traffic does not mark:
tm= brand traffic tnm= brand traffic np= traffic not provided
How to measure user experience
As in everything, before starting to measure anything, the first thing to do is understand it, so first we are going to explain what the user experience really is and what is needed to offer a good user experience and know how to measure it.
According to Wikipedia:
The user experience is the set of factors and elements related to the user's interaction with a specific environment or device, the result of which is the generation of a positive or negative perception of said service, product or device.
The user experience depends not only on factors related to design but also on aspects related to emotions, feelings, brand construction and transmission, product reliability, etc.
Something essential to have a good experience is to know exactly what your user needs, knowing that what you should get is a product that is easy to use and with which the user finds what they are looking for.
To achieve a good user experience, you need to perfectly combine usability, design, and SEO.
The main metrics to measure the user experience are these:
Bounce Rate
The bounce rate is the percentage of website visitors who only go to one page.
The bounce rate helps us to detect which users do not find the content of the site interesting, since they enter a page of our website and without navigating through any link, leave the site, or bounce.
The bounce rate is a useful piece of information to measure the level of satisfaction of your users, as long as you have a reference with which to measure it: together with the time spent on the page, it indicates whether the user has been on the page for a long time before bouncing and therefore, you may have found the content you were looking for, or if it was immediate, so you may not have had a satisfactory browsing experience.
However, Google Analytics only records bounce rate and time on site through page views . It is very important that you understand this – otherwise you may start removing content from your website that you think is not working well when it is.
For example, if a visitor to one of your pages stays for 8 minutes and 12 seconds before bouncing back to the search engine, two things will happen:
The search engine will see it as a good sign because there has been a high dwell time (high dwell time = good user engagement)
Google Analytics will show a 100% bounce rate and a time on page of "0:00:00" which most webmasters will interpret as a dire sign.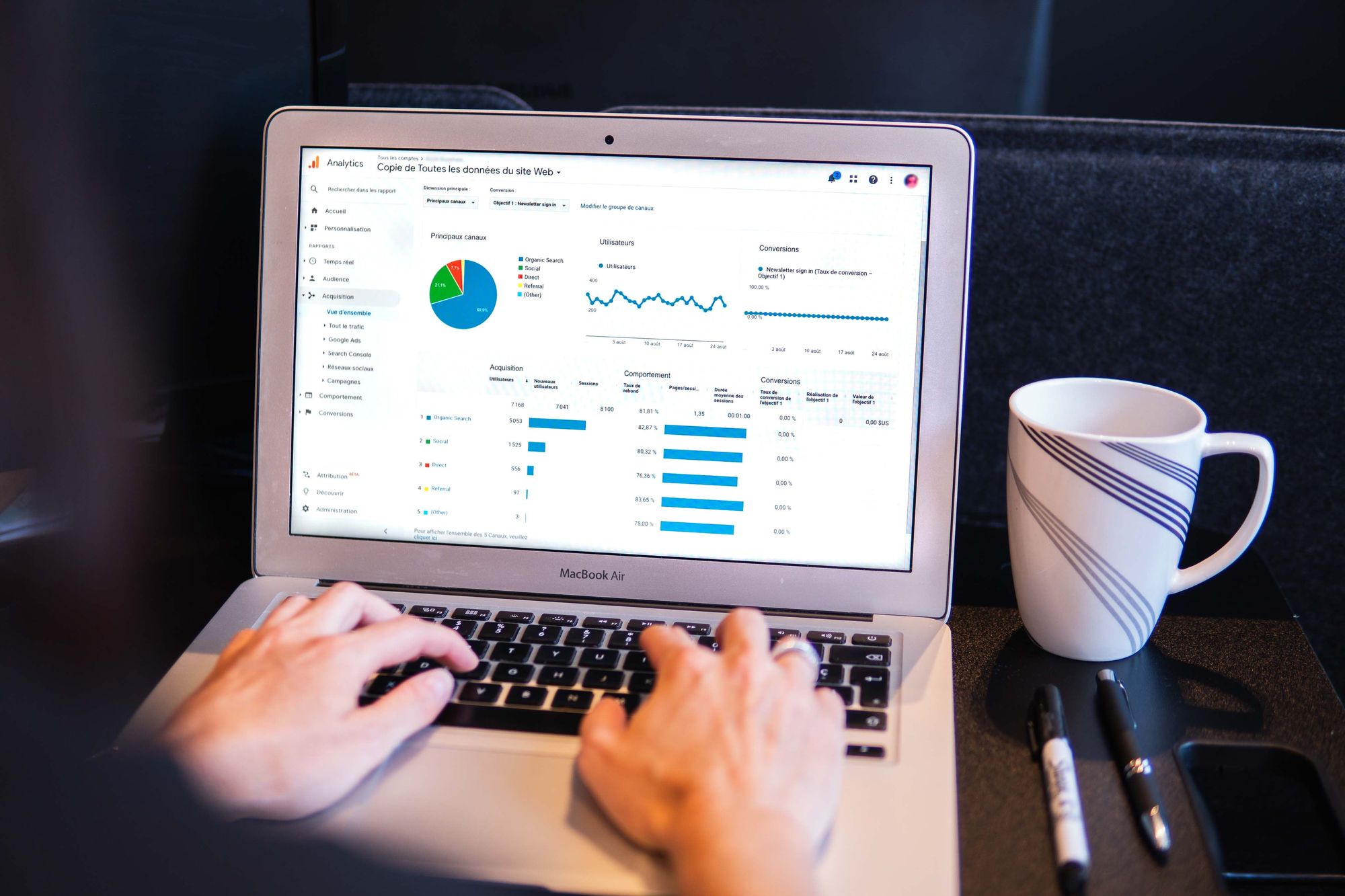 How do I fix this in Google Analytics?
What we really don't know is:- "For each page on my site, what percentage of users stay longer than x seconds?" The value of x can vary depending on what you think is good enough for your users. We think that a sufficient amount of time is 30 seconds.
If someone enters a page and leaves it before 30 seconds have passed, it is quite possible that they did not find what they were looking for . On the other hand, if someone stays longer, at least we have achieved some engagement (they have started reading or are watching a video).
Thank goodness using a feature called "Event Tracking" we can measure it relatively simply by adding a line of code to our GA code.
Analytics Synchronous Code (Old Version)
If you are using the original Analytics code (not the asynchronous version) this is the code you need.
Add the following line below pageTracker._trackPageview();
setTimeout('pageTracker._trackEvent(\'NoBounce\',\'NoBounce\',\'Over 30 seconds\')',30000);
Analytics Async Code (New Version)
If you are using the new Analytics code (the async version) this is the code you need.
Add the following code as the last _gaq.push declaration in the script:
setTimeout('_gaq.push([\'_trackEvent\', \'NoBounce\', \'Over 30 seconds\'])',30000);
Thanks to padicode for these code snippets.
How does it work?
This script will count 30 seconds from when the page loads and will then force an event for Google Analytics. Once the event has been fired, Analytics won't count that user as a bounce even if they don't load any more pages on your site. The result would be that you should see the bounce rates of your pages go down.
Here you can see a picture of when the code was added:

The best way to find underperforming pages
We now have a bounce rate that will only kick in if a visitor spends less than 30 seconds on our site before leaving, so it's a much better metric for identifying those pages that aren't doing as well.
To find these pages, I recommend navigating to Content -> Site Content -> All Pages, clicking on "Bounce Rate" to sort them from highest to lowest, and changing the sort type to weighted. This will give you a list of pages from highest bounce rate to lowest, showing the number of pageviews.
With this view you can sort the pages to identify the highest bounce rates and shortest time on page.
How to measure conversions?
Generally, in an online campaign, the mistake is made of choosing a single objective and focusing on it at all costs, be it acquisition, lead or download. But apart from these metrics, you should measure other user actions that, although they are not the ones you have marked as decisive, do contribute in some way to reaching your goal.
Some examples may be visits to the information or about us page, posting comments, sharing on Social Networks or filling out a contact form.
You can find more information about conversions in Google Analytics in this official guide.
How to create goals in Google Analytics
In this case we are going to create the most common type of objective on a website, the fixed URL, which in the case of an e-commerce could be something like this:
www.tiendaonline.com/gracias-por-su-compra/
Now let's create the target:
Click Admin, then select an account, property, and view. Click on Goals and "Create a goal"

2. Give the target a clear name and select the "target" option
3. Now you have to enter the landing page of the goal (in this case it would be "/thank-you-for-your-purchase/")
If we create a conversion funnel, the information we will obtain will be much more precise, being able to know at what point of the purchase process the users have abandoned. To do this you have to activate the "conversion funnel" button and list the URIs of all the steps of the purchase process.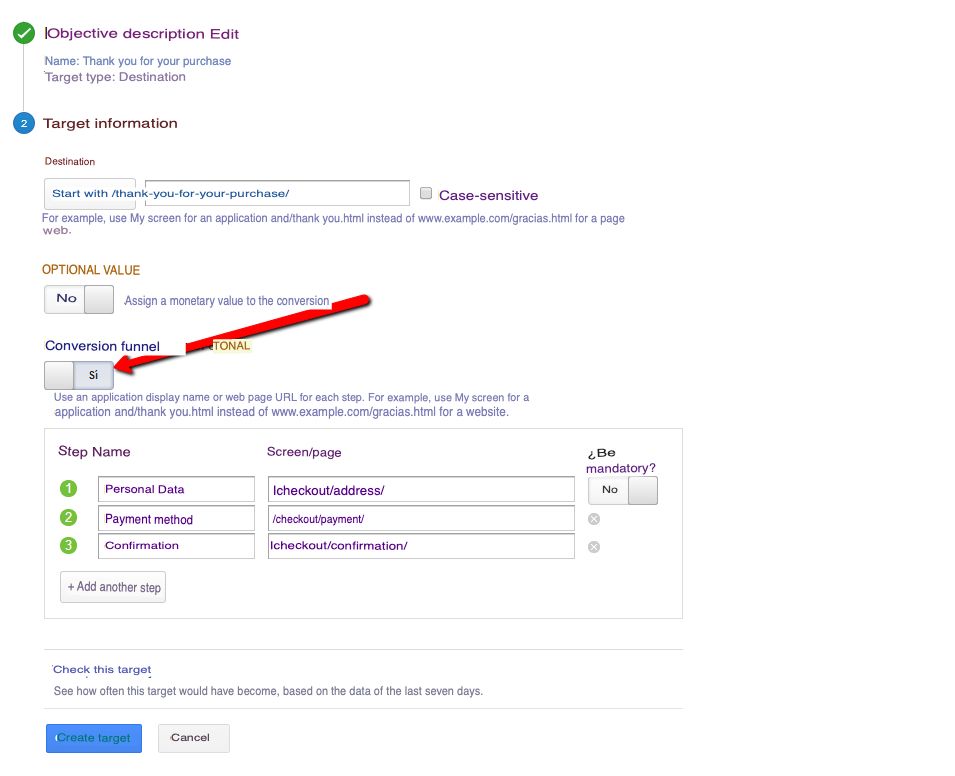 Now that you have created the conversion funnel, review the following points:
Test the sequence on your website and note all the pages that make up the entire checkout process to check that you haven't skipped any
The last page in the sequence is the goal and its URL should be entered in the Goal URL field and not in the Funnel section.
The match type you select for the goal URL is also applicable to any URLs in the funnels section.
Omit the domain name from the URL at all steps of the conversion funnel (e.g. for http://www.example.com/checkout/address/ type /checkout/address/)
Check that the URL for the goal is unique to the page/goal and consistent with the content. If the URL is the same in many steps of the purchase process, you can consult this article on how to configure it
How to interpret a conversion funnel
Now that we have configured the conversion funnel, we will be able to know in which part of the purchase process our users have left, thus knowing which parts of it we must optimize to increase conversions.
To do this you have to (in Google Analytics) go to Reports > Conversions > Objectives > Conversion funnel chart .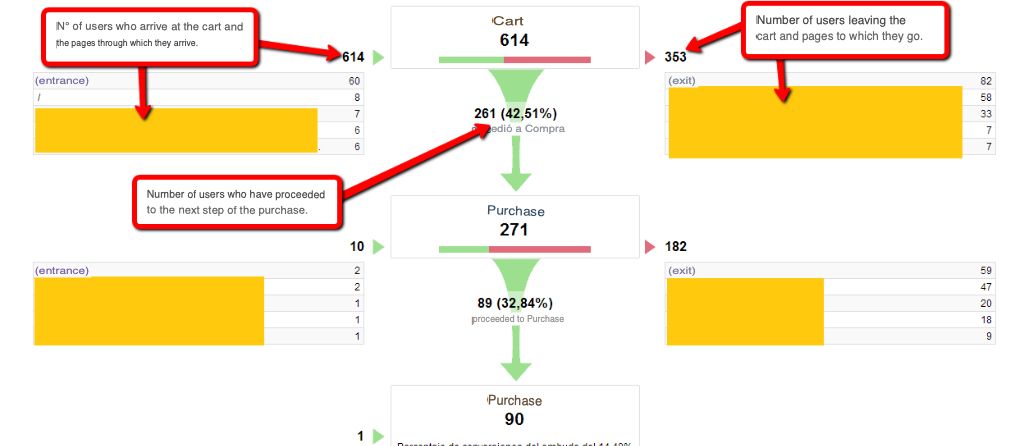 In the image you can see how 42.51% of the users who have reached the shopping cart have not proceeded to make the purchase. It is a very high number of abandonments, so since we know where we have to focus to improve the number of conversions. Similarly, we need to study the behavior of those who do not drop out.
You have to bear in mind that the more advanced in the purchase process they occur, the more critical the abandonments will be , since the user's purchase commitment increases as they progress in the process, therefore, the more progress the lower the price should be. dropout rate.
Rankings de Keywords
The ranking of keywords is without a doubt something that has lost a lot of importance since the search results are becoming more and more personalized, due to what is called Social Search , which said quickly and wrongly is the use that Google makes of keywords. social signals from users to provide them with search results more in line with their needs.
But no matter how much relevance it has lost, it is very useful to review the keyword rankings to know the approximate positioning of the keywords that we are optimizing.
How to measure keyword rankings
In this section I would like to differentiate between the keywords that you are trying to optimize and the keywords that are really attracting traffic to your website.
And why make that differentiation? Because it is very important to realize through the keywords that attract traffic (despite the fact that Google wants to end it) if we are focusing on the keywords that really matter.
To find out which keywords attract traffic you have to go to Google Webmaster Tools > Search traffic > Search queries . This tool will tell you the average position of the keywords that bring the most traffic to your website, the CTR and the number of impressions and clicks; in addition to the changes registered in each keyword.

Compare the number of impressions with the number of clicks and if the CTR is very low even though the average position is good (above 5) try to find out why people do not click on that result.
It may be that your search result is less attractive than that of your competition:
You do not have the meta description tag implemented or it is not relevant to the user
Your title tag does not convince the user
You don't have data markers implemented (you can do it through Google Webmaster Tools)
It is not a local result. Local results have a much higher CTR than normal results
Tools to measure keyword ranking